digital-domain.net
"We have to sadly decline taking business model advice from a company that seems to have squandered all of its money ... and now seems to play the U.S. legal system like a lottery."

-- Linus Torvalds on SCO.
Coding
My GitHub page
Fedora on a SheevaPlug
Putting Fedora 14 on a SheevaPlug
Tips and Tricks
iptables NAT with one NIC
Git
Android
Random android stuff
Old stuff
Tayside LUG Diary.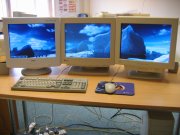 A tri-head Xinerama setup. E-Power.epplet that works with Linux 2.6 ACPI. Need help in running setiathome under Linux?. Old, pre-BOINC


Domains hosted here
cmt.digital-domain.net
---
Andrew Clayton